The objective of the course is to help TRIZ users in gaining advanced level experience in applying all TRIZ methods and confidence in working on their real-life problems in innovation.
TOPICS PRACTICED
Analysis of a Situation and Problem Formulation
Ideal Ways (the best directions to design the ideal product or process)
Solving a class of problems called an Insufficient Function
Solving a class of problems called a Conflict
Solving a class of problems called a Harmful or Unwanted Function
Accelerated development of the new generation of products and processes by applying TRIZ Laws of System Evolution
Analysis of Failures and Problem Formulation
Solving a class of problems Revealing the Causes of a Failure
Solving real-life problems
Applying TOP-TRIZ Innovator's Engine software
Schedule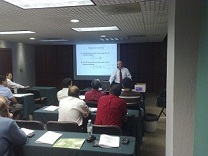 Online
January, 15, 22, 29, February 5, 12, 19, 26, March 4, 11, 18, 2024
Fridays, 8:00 AM - 12:00 PM PST
Fee:$5,000
Workshop materials are included.

Prerequisites:
Basic five-day TRIZ Course
Advanced TRIZ Course


Certification:
Certificate of Completion
TRIZ Practitioner (subject to test and a real-life problem application)


1. Textbook: Designing and Manufacturing Better Products Faster Using TRIZ by Zinovy Royzen, TRIZ Consulting, Inc.,
ISBN: 978-0-9728543-0-6

2. TRIZ Case Studies
by Zinovy Royzen, TRIZ Consulting, Inc.


3. TOP-TRIZ Software:
One year free license ($2,000 value).
Customer Reviews
"You provided the most practical and versatile approach to TRIZ I know"
Michael Schlueter
Philips Semiconductors
"It has been a pleasure using Zinovy Royzen, TRIZ Consulting, Inc. as our primary Basic TRIZ trainer within Boeing. He provides our employees with a five-day Theory of Inventive Problem Solving (TRIZ) workshop. Mr. Royzen's workshop has provided training to approximately 450 of Boeing's technology experts and engineers. He has provided them with the ability to apply this unique and systematic method of solving complex problem. An example, is a TRIZ workshop solution developed for the 767 Tanker (air-to-air refueling) aircraft project. As a result of that TRIZ solution, the program was successfully launched with a customer who preferred the TRIZ solution over the competitions solution for the same system, thereby ordering aircraft from Boeing. TRIZ Consulting, Inc. is highly recommended as a TRIZ trainer in the Fundamental/Basic as well as Advanced TRIZ Methodology."
Don Masingale
Internal TRIZ Consultant-Certified TRIZ Specialist
Advanced Research Engineering Program Manager, Boeing
Certified TRIZ Practitioner
"I had the opportunity and privilege of completing three of Zinovy's TRIZ classes and earned the TRIZ practitioner certificate. My motivations for learning TRIZ were both to increase my skill set and also improve my ability to innovate more elegant solutions. A specific challenge that I'm interested in is how to solve a problem with the resources at hand. As an engineer there are several paradigm shifts and benefits to learning TRIZ. The first challenge as an engineer is to shift from jumping to solution to learning to think of all possible solutions. This leads to the first benefit of TRIZ which helps you think of ideality (function is completed without harm or cost) and the big picture of continuous improvement. I really like Zinovy's method of laying out a problem with syntax showing the specific tool(s) completing both useful and harmful functions. This leads to the next big advantage of getting to an excellent understanding of functional analysis. You can quickly identify if you are solving a primary issue or a secondary level problem. The next advantage to the TRIZ methodology that Zinovy taught is once you have defined different challenges (harmful functions, insufficient functions, unknown root cause), he provides the process steps to identify all possible solutions. A TRIZ insight that I picked up is to use separation of time and space. When in time is the useful function and the problem? Where in space is the useful function and the problem? Another nice TRIZ insight that I learned is understanding how to identify conflicts and framing the ideal solution.

I have used TRIZ for several years now. My most common use of TRIZ is to lead a team through an idea generation activity for challenging problems. I find in all cases TRIZ lays out the functional analysis cleanly. This helps define what tools provide useful and harmful functions. Using the standard templates for solving a harmful product and insufficient function I can lead people to identify more and better ideas than a typical brainstorming since the method provide many solution concepts. In my experience I have arrived at elegant solutions on about 20% of the problems that I undertake. In a few of those examples I have worked with another person for less than 30 minutes and arrived at simple solutions that lead to the comment, "why didn't we think of that earlier?" In one case I arrived at a solution in 15 minutes that not only avoided a long and costly qualification that was being pursued, but provided twice the benefit as the solution that was in qualification at a low incremental cost. On half of the remaining challenges working with a team we identify promising concepts that require further evaluation to determine. The remaining half of the challenges (often the difficult on-going issues that are core to the business) the TRIZ provides the functional analysis and the comfort knowing that we have done our best to flush out possible ideas. On the most difficult issues I see the outcome as successful even when an elegant solution isn't found. I see the lack of an elegant solution also related to the limited time spent identify concepts (I limit the time for a team to prevent burnout), lack of full root cause understanding and access to additional subject matter experts.

In summary, I have found the TRIZ methodology taught by Zinovy to be highly valuable. I now routinely take on leading TRIZ evaluations for complex problems that I know nothing about. In some cases an elegant solution is found, in some cases new promising concepts are identified, but I all cases the team completes the analysis with a solid understanding of the problem and the comfort knowing that we did our best to identify all possible ideas. TRIZ is a useful tool and TRIZ has permeated my thinking. I see innovations and problems through a new lens."
Rio Rivas
Senior Inkjet Development Engineer, Hewlett Packard
Certified TRIZ Practitioner
"We have an Internal Consulting group, that Zinovy Royzen spent five and one-half days with of very thorough instruction. The last half day was spent on actual projects. It was very productive. Zinovy also spent two days with one of the consultants and me, with respective engineers on actual projects. Again the results were very rewarding.

We especially enjoyed and appreciated his systematic approach to innovation and creativity, with the use of TRIZ. We have experienced other individuals and their approaches with TRIZ. Zinovy Royzen isespecially good with helping you define and solve very specific problems and opportunities."
James E. Smith
Vice President
Corporate Quality, Melroe/Ingersoll-Rand